Teaching English and sharing Christ's love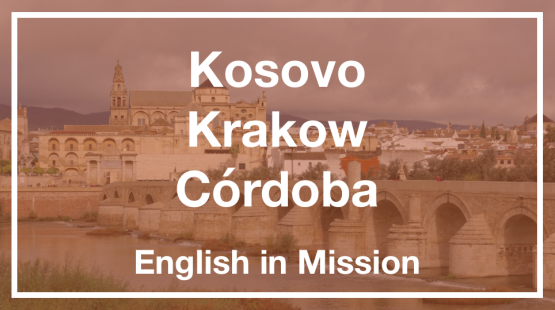 jueves 23 agosto 2018

12:23
Could you live for Christ in Córdoba, Kosovo or Krakow? So few people in these cities will have the opportunity to meet someone who is following Jesus. In these three very different places, Christians are using English to meet people's needs, build relationships and sharing Jesus love.
Teaching English and sharing Christ's love
Córdoba // At 2am on a Saturday morning you'll find the team in Córdoba in a Jazz bar chatting to Opus Dei friends about the uniqueness of Christ, or hosting a houseful of contented friends to an evening of Wine Cheese and English Conversation. A small group of faithful followers of Jesus are building a community, sharing their lives with others through music, food and English amongst other things. Together they are living examples of how Jesus is about something much more radical than buildings or structures, people who have a secular mindset or who are disappointed by the institutions of religions and are seeking something real. If you have a European passport you could find work in the local language schools and be part of the missional community that is sharing Jesus with those who the traditional churches are struggling to reach.
Kosovo // Christians in Kosovo are often seen as foolish and even as traitors, in part because of the historical tensions between Serbs and Albanians. Kosovar Albanians have at times tied Christians to the Serbs, who are Orthodox Christians, and acts against Albanians during the war at the end of the 90's. And it's the Christians who live in the margins. In Kosovo there is no Christian political movement, no Christian lobby, no big churches. There are only Christians who live their lives and share their hope within their families, within their villages. They share their hope for a future reality, but also hope for their country in this earthly reality. In Kamenica, Dan and Primrose are using English teaching to help the families of Kamenica. They have classes for kids of all ages, getting to know their parents and families. They have Kids clubs and Youth events and many other opportunities to love and serve the families in their town while sharing Jesus.
Krakow // In Krakow the multicultural church community is working to display the Gospel of grace to the city Krakow. One of the key parts of their ministry is being involved in the community in compassionate and credible ways. They're doing that through hospitality, reaching university students, reaching out in compassion and through English language classes.
If you're interested in knowing more about how you can use English teaching click 'I'm Interested'
For more information on mission in Kosovo, read Rik Lubbers article 'Christian Alienation in Kosovo: Mission from the Margin' in Vista, Issue 30, July 2018 (https://europeanmission.files.wordpress.com/2018/07/vista-issue-30-final.pdf)